AllTrails is excited to announce a new feature exclusive to our AllTrails+ subscribers — trail previews! Now you can experience a 3D walkthrough of any trail route, allowing you to preview the terrain directly on the AllTrails app or on AllTrails.com/en-gb/. You'll also see the cumulative elevation gain progress as you preview the trail route, so you can better visualise the ups and downs before deciding on a trail for your next adventure. This article will help walk you through this new feature and answer some of our most commonly asked questions.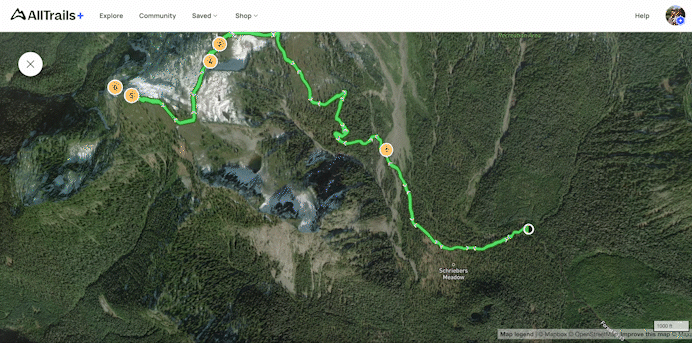 How do I activate a trail preview?
To preview a trail, you can open the trail details for any trail in our database, then tap or click 'Preview trail.' The page will reload to a bird's-eye view of the route, then the preview will start automatically. The blue dot will move along the trail, changing the route to blue as it progresses.
| | | |
| --- | --- | --- |
| AllTrails.com: |   | iOS or Android: |
| |   | |
Can I pan or adjust my zoom level when previewing a trail?
Yes! You can pan around the map or adjust your zoom level at any point during the trail preview. If you zoom in or out, the preview will pause automatically, allowing you to take a closer look at a specific section of the trail. You can click or tap the play button (black triangle) to resume the preview at your new zoom level.
How do I pause the trail preview?
Adjusting the zoom level will automatically pause the preview. Clicking or tapping the map will also pause the preview, and you can restart it by clicking the map again (or clicking the play button).
Can I preview the route for a custom map or an activity that I recorded?
Trail previews are only available for AllTrails verified routes (what we refer to as 'trails'), so this feature is not available for custom maps or recorded activities. However, as an AllTrails+ subscriber, you can still view these routes in 3D on any of your devices. 
Can I select a different map type for my trail preview?
At this time, the trail preview feature can only utilise our 3D satellite map layer.