One of the great benefits of AllTrails+ is that you can download maps to your phone for offline use. This allows you to view detailed map information and navigate using your phone's built-in GPS while you're out on the trail - even when you don't have a data signal! 
Your downloaded maps are stored in and accessible through the AllTrails app under Saved >> Downloads.
Download custom maps created via desktop or laptop computer:
If you've used our map creator tool to make your own custom map on AllTrails.com, you'll be able to access that map on the mobile app. Maps that you've created and saved on a desktop or laptop computer will automatically sync and show in your 'My maps' section of the app (Saved >> Lists >> My maps). You must download a map to your phone to use it offline:
Open the AllTrails app
Tap on 'Saved' on the bottom navigation bar
Select 'Lists' from the tabs at the top of the screen
Select 'My maps' from the list of options
Tap on the download arrow in the bottom right corner of the result card for the map you wish to download

Pick the map type(s) you want to download by tapping on the download arrow in the lower right-hand corner of each map type

When the circle turns GREEN, your map download for that specific map type has completed
You can also download a map from the map details page by tapping on 'Download' at the bottom of the screen and then selecting the map type(s) you want to download.
Download trail maps via the Homepage, My favourites, Lists, or Completed:
Open the AllTrails app
On any trail card you can tap the download arrow at the bottom right corner

You can also download a map from the trail details screen, by tapping on 'Download' (in-line with Directions, Navigate, and Share

Pick the map type(s) you want to download by tapping on the download arrow in the lower right-hand corner of each map type

When the circle turns GREEN, your map download for that specific layer has completed
Downloading a Map From the Explore Page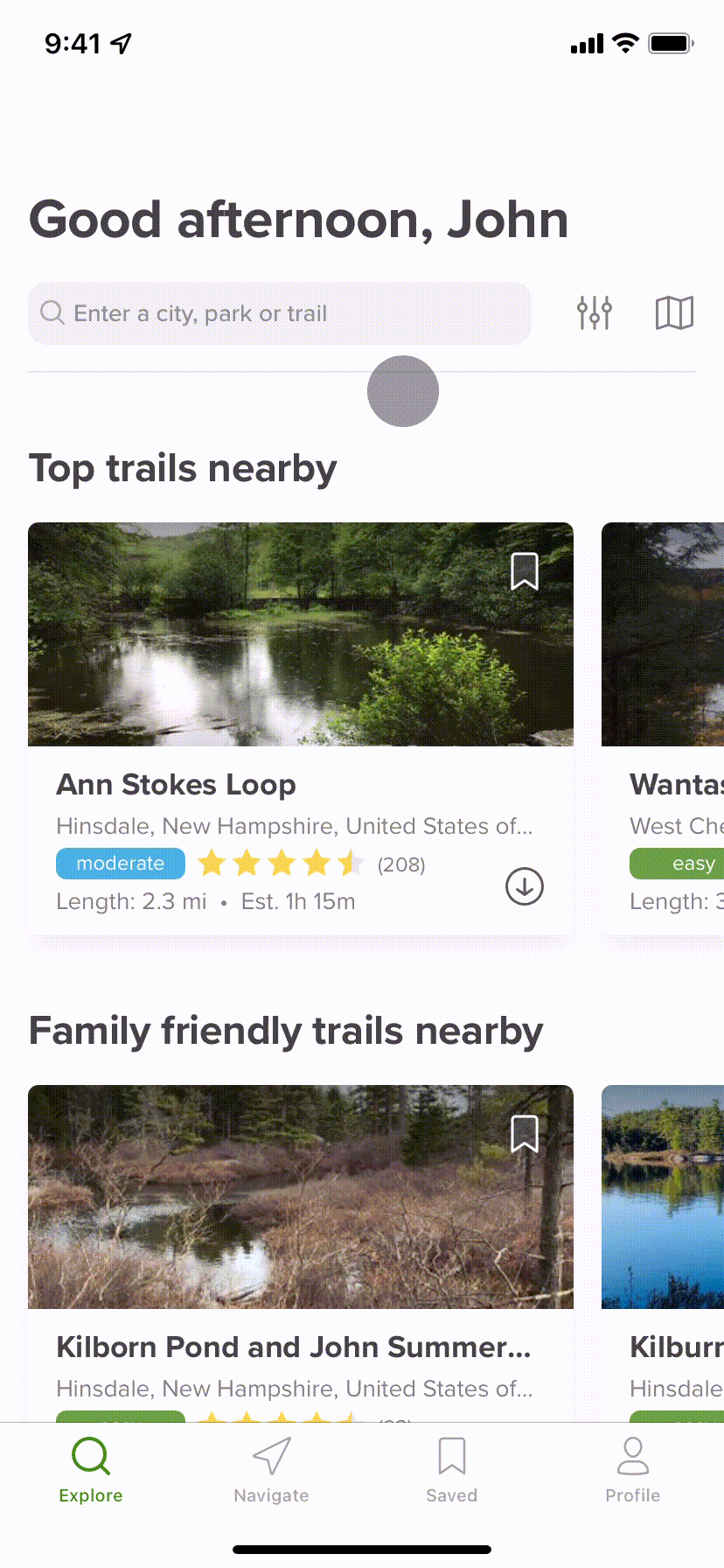 Downloading a Map From the Trail Page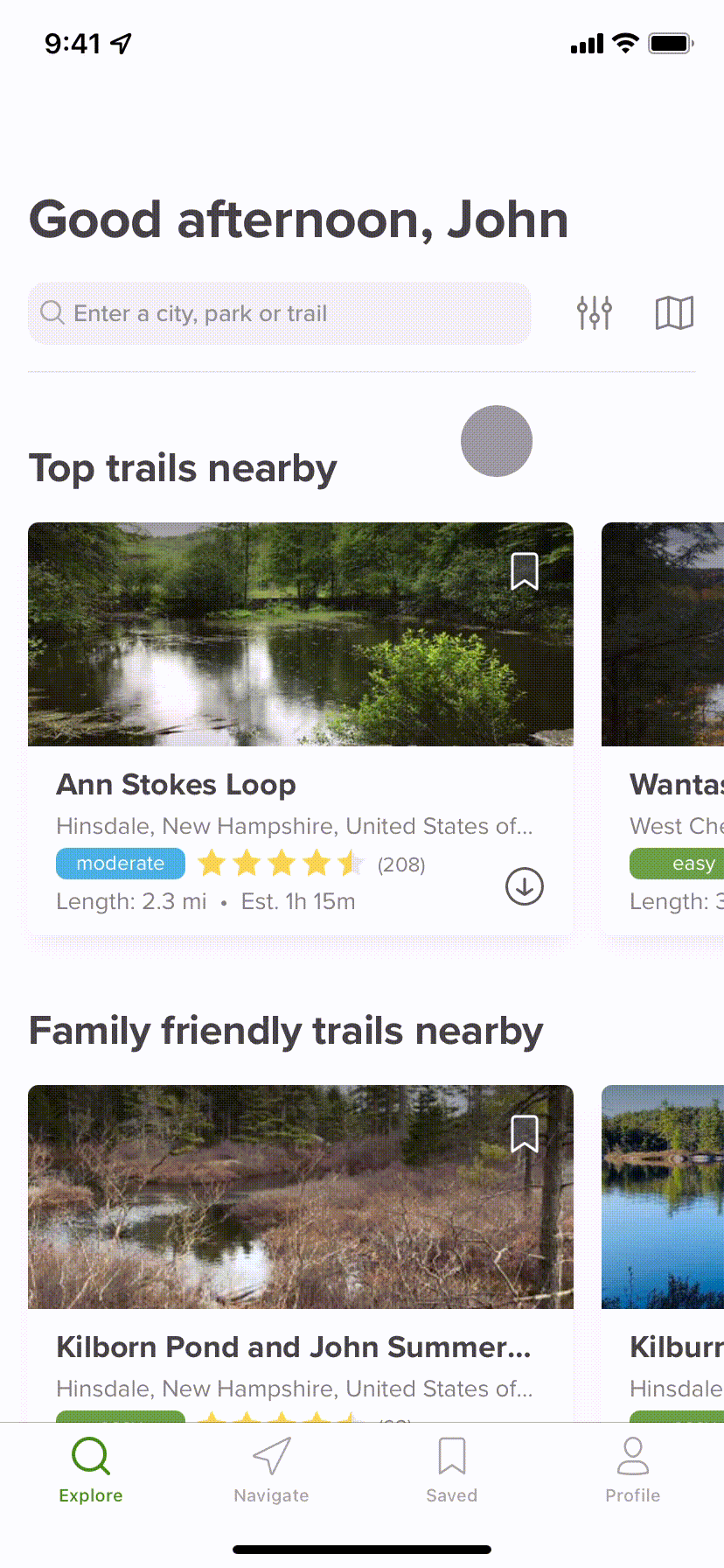 Downloading a Map From the Map View on a Trail Page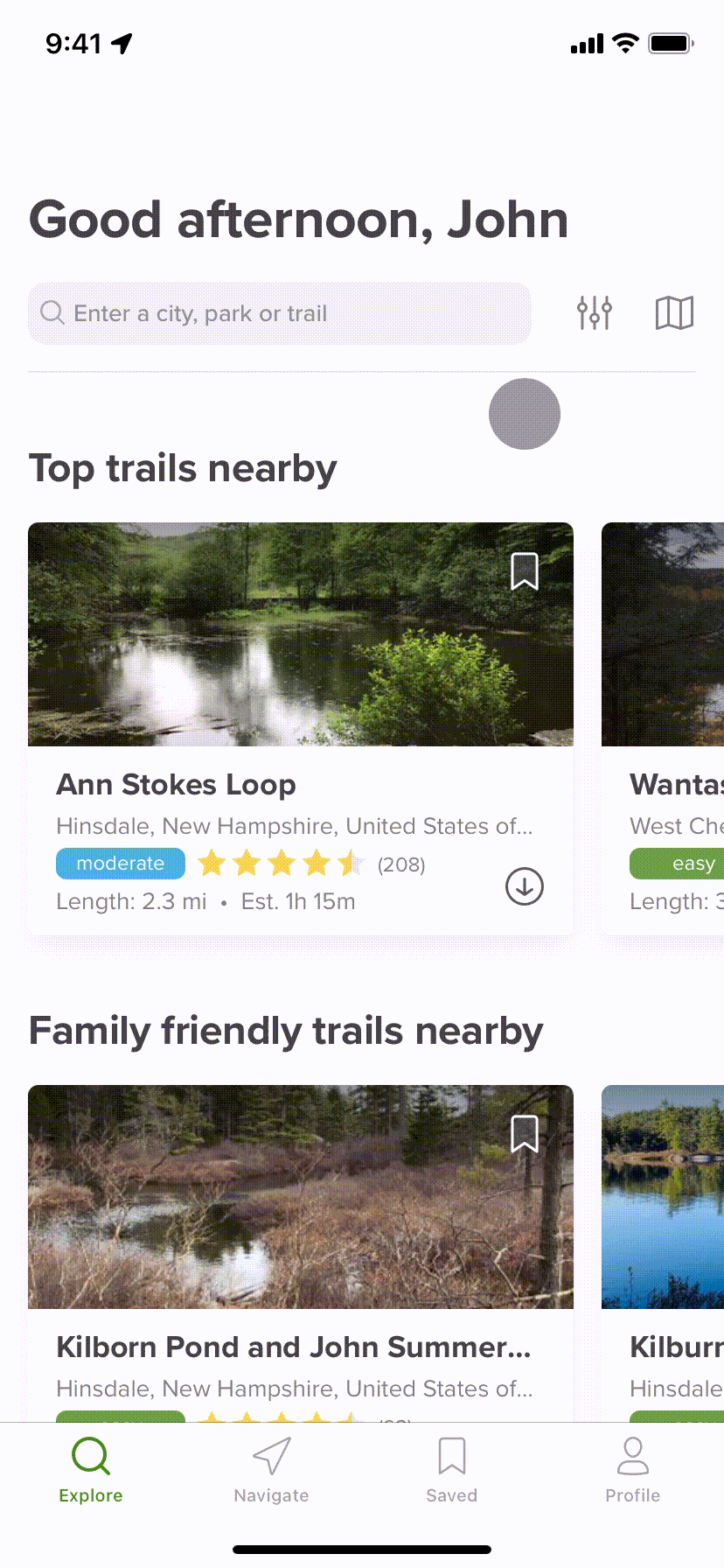 Open the AllTrails app
Tap on 'Saved' on the bottom navigation bar
Select 'Activities' from the tabs at the top of the screen
Tap on the download arrow in the bottom right corner of the result card for the activity you wish to download

Pick the map type(s) you want to download by tapping on the download arrow in the lower right-hand corner of each map type

When the circle turns GREEN, your map download for that specific layer has been completed
Download a custom map area via the mobile app:
Open the AllTrails app
Tap on 'Saved' on the bottom navigation bar
Select 'Lists' from the tabs at the top of the screen
Select 'My maps' from list of option
Tap the overflow menu (three dots) in the upper right corner
Select 'Create Map'
Pan & zoom the map to the desired map area and tap 'Save'
Enter a name for your map and tap 'Save' (iOS) or 'OK' (Android)
Once saved, tap the 'Download' button at the bottom of the map

Pick the map type(s) you want to download by tapping on the download arrow in the lower right-hand corner of each map type

When the circle turns GREEN, your map download has completed