AllTrails is excited to announce that 3D maps are now available on alltrails.com as well as our iOS and Android apps! This feature is exclusive to AllTrails+ members, and allows you to interact with our map types in a fun and dynamic way. You'll get a true feel for the landscape and topography as you explore our database of trails. 
This article will walk you through activating 3D mode on both the website and mobile apps. 3D maps not quite your thing? Skip ahead to learn how to deactivate the 3D option on your mobile device.
3D maps can be accessed on any interactive map view, with the exception of the print preview page. This includes trail maps, activities, custom maps, map creator, and our Explore map view.
3D maps are available on three of our existing map types: AllTrails, Satellite and Road. When viewing the 2D version of any of these three map types, you can click '3D' at the top right corner of your map view to activate 3D mode. You'll be able to click and pan around the map as you normally would with 2D maps. To adjust your orientation in 3D, right click on the map OR press 'Ctrl' and click, then you can drag up and down and left and right.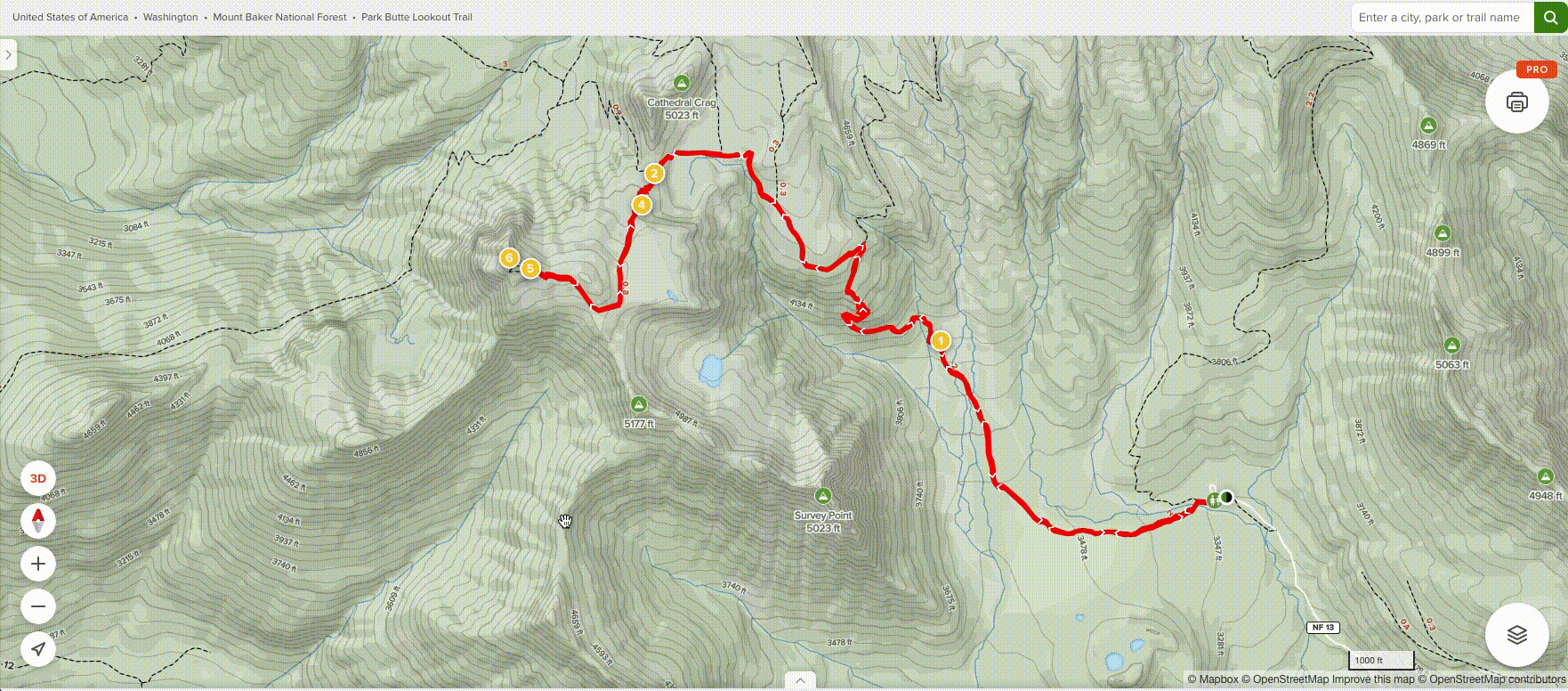 Activating 3D mode on iOS and Android:
On the AllTrails mobile apps, 3D maps can be activated on most interactive map views (though not available to view within Navigator, and cannot be downloaded for offline use). 3D mode is available only for the AllTrails and Satellite layers on the apps.
To activate 3D mode, you must first select either the AllTrails or Satellite map types from the map details icon (three stacked sheets)
Once one of these map types has been selected, tap '3D' in the top right corner
Controlling the map:

Swipe two fingers up and down on the map to adjust your horizontal perspective
Pinch in/out with two fingers to control the zoom level
You may also twist with two fingers to rotate your orientation on the map

To deactivate 3D mode, you will simply tap '2D' at the top right corner
NOTE: 3D maps are only available when you are online and connected to the internet, and cannot be downloaded for offline use.Additionally, 3D maps cannot be used within Navigator, and no option to switch to 3D mode will be available on this screen.
Disabling 3D maps on Android*:
If you'd prefer to disable the option to switch in and out of 3D mode, you can do this in your app settings (not an option on alltrails.com/en-gb/). Here's how:
Open the AllTrails app
Tap on 'Profile' on the bottom navigation bar
Tap the Settings icon () at the top right corner and scroll down and tap '3D Maps'
Tap 'Off' to disable 3D maps on your AllTrails app
*The option to disable 3D maps will be available on the iOS app in the near future!