One of the great benefits of AllTrails+ is that you can print or download a PDF of any map on AllTrails.com. Whether you're looking at a specific trail map, a map of an area you're hoping to explore, or a map of an activity that you find inspiring, you can easily print or save it as a PDF by following these steps:
Via desktop or laptop computer:
Log in to your account on

https://www.alltrails.com
Open the trail, map, or activity page that you wish to print
On the map details page, click the '

Print Map' button on the right hand side

Pan and zoom to your desired area, or make any other customizations in the left panel

Click 'Print map' to print immediately, or 'Download PDF' to save as a PDF

You can also print a map directly from a trail details page by clicking 'view trail details' via the map details page and then by clicking 'Print/PDF Map' icon, in line with Photos, Directions, and Share: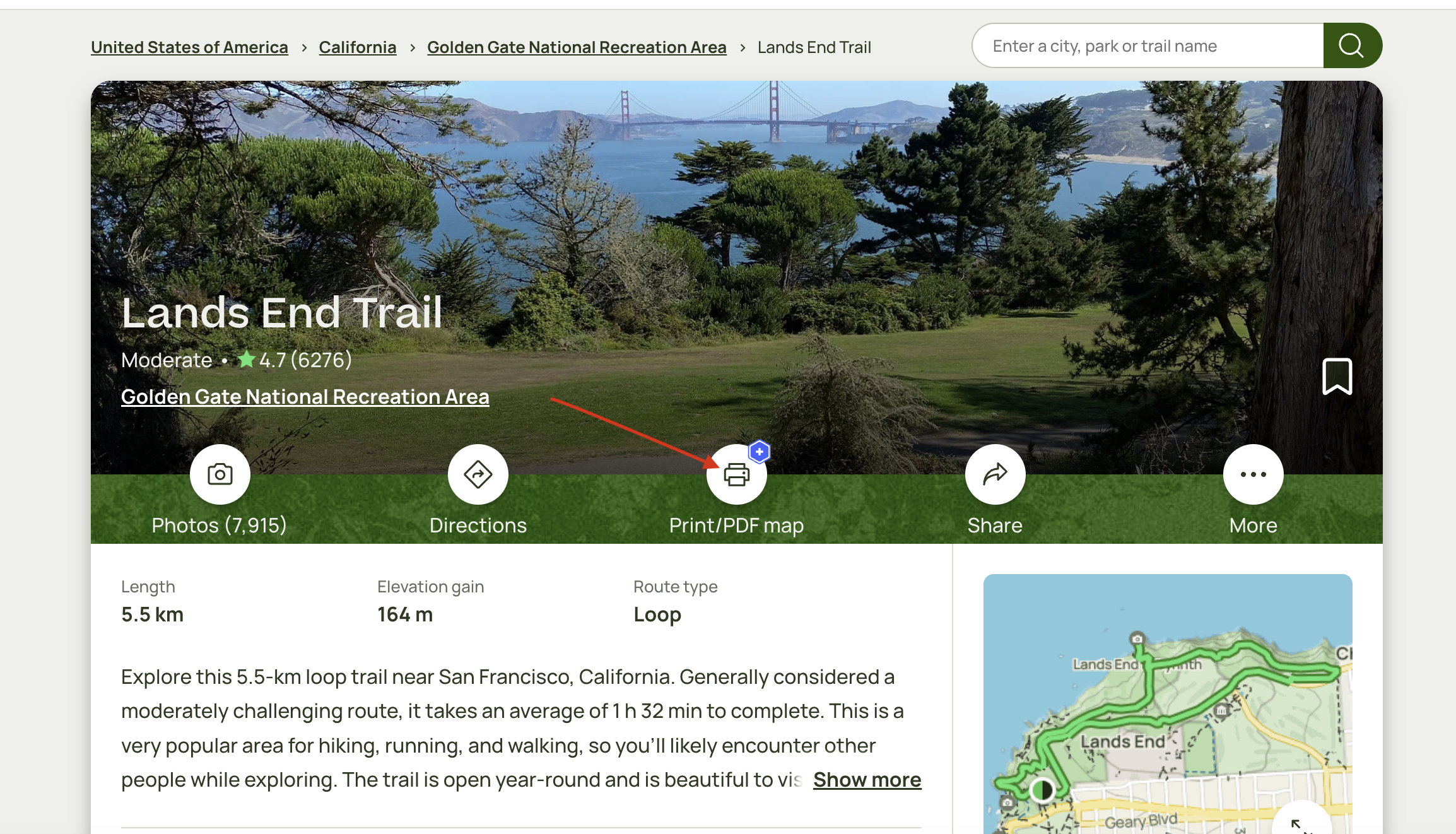 AllTrails.com via your mobile browser:
Open your preferred mobile browser on your cell phone (Safari, Chrome, etc.)

Go to https://www.alltrails.com then login to your account
Search for and click to open the trail page* that you wish to print**

Tap the More button (three dots) and select 'Print/PDF Map'

Pan and zoom to your desired area, then tap 'Print Map' - this will generate a PDF

Tap 'Open PDF' then you can opt to print the PDF, if desired
*Currently, only trail maps are able to be printed from our mobile website. Maps of your activities or custom maps are not able to be printed via your mobile device, but we are working to add this feature ASAP.
**Android users: If you tap to open a trail page and are taken into the app (where printing is unavailable), you may need to adjust your 'open by default' settings for the AllTrails app. Long press on the AllTrails app icon >> info icon >> 'Open by default' >> turn off 'Open supported links'.
Map Customization:
When printing maps on AllTrails, you have the following map customization options:
Paper size
Orientation
Gridline style (Decimal vs. Degrees, Minutes, Seconds vs. UTM)
Scale (1:18k vs. 1:24k Exact vs. 1:25k Exact vs 1:50k Exact, and more)
Map type (Satellite vs. Topo vs. OSM, etc.)
The addition of map details (photos, waypoints, etc.)
You'll also be able to pan and zoom directly on the print preview screen in order to set your desired map area.
'Download PDF' vs. 'Print Map'
When printing via a desktop or laptop, you'll be presented with these two options on the print preview screen. Clicking 'Download PDF' will automatically generate a PDF based on your map specifications on AllTrails. You'll click 'Open PDF' to view the PDF in your browser, where you can then download to your device (or print, if you wish). 'Print Map' will immediately launch your computer's print dialogue, where you can select the appropriate printer location and make further adjustments.
On mobile devices, you will only see the 'Print Map' option. This button will generate a PDF on your device. Tap 'Open PDF' then you can use your phone's print function to print.