Welcome to AllTrails! Let's get started exploring the features of your app.
Begin Your AllTrails Journey
You can begin by searching for trails via the 'Explore' tab. The AllTrails app will automatically recognize your current location and curate lists of nearby trails for you. If you'd like to do your own search for trails, you can use the Search Bar, the Filter button, or the Map View button at the top of the screen. Feel free to click the above links for more information on the search process.

What's a Trail?
AllTrails is built with you in mind so that you can easily find the information you need to start your adventure! Our team spends time verifying every trail so that you get the most up to date information. When you search for trails, the trails that appear are called our Verified Trails or our Curated Content. There are a few types of trails that fall under this category, which we refer to as trail route types. You can learn more about trail route types here: What Are Trail Route Types. If you're using the web platform, you'll also see a category named Community Content. Community Content is where you can find non-verified routes that have been tracked or created by other AllTrails users. This can be a great way to find a trail in your area that has not yet been added to our Verified Trails database!
Have you found a trail you're excited about and want to save for later? You can save those trails to your Favorites list or create your own custom lists to organize your future adventures! Adding trails to your Favorites list is quick and easy, the article How Do I Add Items to a List is a great starting point to understanding this feature. Do you want to create a custom list for trails in a specific area, trails to hike on your vacation, or trails with specific parameters? You can easily create your own custom lists with the steps outlined in this article: How Do I Create a Custom List. Lists are a great way to organize trails and a fun way to share your plans with friends! You can explore all of the features of Lists using this link Using Lists.
Once you've found your preferred trail you'll want to review the information, then click the 'Directions' button to help you navigate to the trailhead. This will launch Google Maps (or your preferred navigation app) to provide directions to the start of the trail. Once at the trailhead, you'll load the trail into Navigator to follow along the route and track your activity. The article How do I use Navigator for Navigation? will help walk you through these steps. Navigator will show you the trail's verified path in red as well as the detailed map the trail is on. Here, you'll see your current GPS position as a blue dot. The blue dot will update as you move so that you can see your updated position in real-time. We recommend using Navigator to track your activity, so you'll want to tap the green button at the bottom of your screen to begin navigating. The article How do I Track and Record an Activity? will assist you in navigating these steps.
Understanding What You're Viewing - Map Types and Map Details
AllTrails uses different map views, referred to as Map Types to help you identify trails, trail features, and terrain as you plan an activity or follow along a trail in real time. First you'll want to learn a little bit about how to read our map types before hitting the trail. Understanding AllTrails 'Map types' and 'Map details' is a comprehensive article on the map types that we offer. Your default map type is the AllTrails Type, which is a custom-built layer that encompasses topographic data, and other important characteristics. You'll be able to find the map legend here: How Do I Read the AllTrails Map Type? Along with Map Types, AllTrails also offers Map Details to bring in even more information to help plan your hike. The Understanding AllTrails 'Map types' and 'Map details' article will also help walk you though the different types of map options.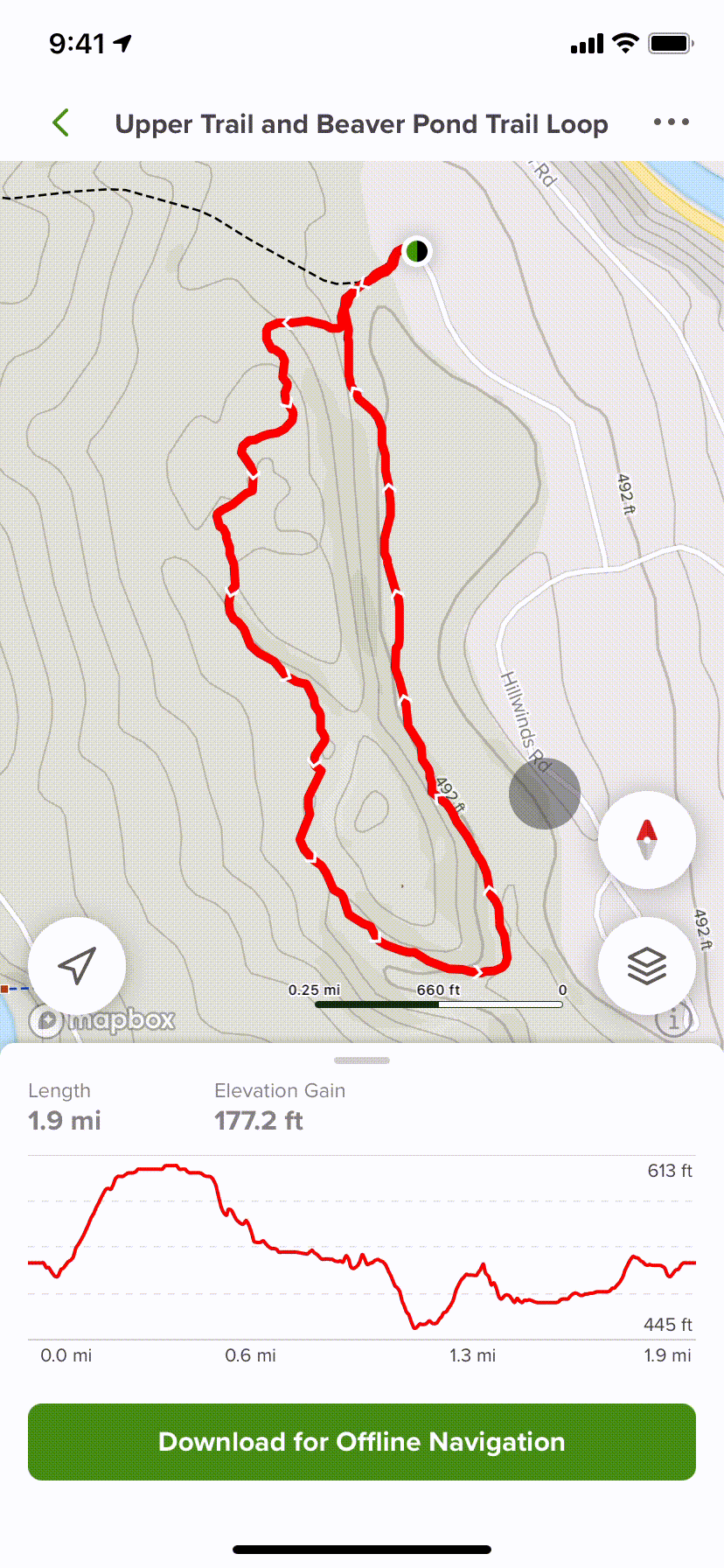 App to Computer Collaboration
The AllTrails app syncs seamlessly to your desktop or laptop computer. You can access and login to the AllTrails website here. By signing in on your computer with the same login information from your app, all of your data will be available to view and edit. Once you've signed into your account on your computer, you'll be able to create new maps, find new trails and save them to your profile, manage your activities, contribute new trails and many more features! What you do on your computer will also sync to your phone app, allowing you to access the same information from your phone instantly.
Mapping Out Your Next Move
The AllTrails 'Map Creator' is a powerful tool that allows you to create your own maps and routes. Map Creator supports your creativity to research, plan, and implement your next big adventure! You'll be able to access your custom maps on your phone and follow along your own path. Map Creator allows you to draw your own routes with Free Drawing or snap your route to the trail with "Smart Routing". To begin creating your own maps, you want to become familiar with the process by following the steps in the How Do I Create a Map FAQ, where you'll learn more about drawing your route, adding waypoints and photos, and sharing your map. If you find a trail in the AllTrails database that you'd like to edit in the Map Creator tool, the How Do I Save a Trail as a Map FAQ will teach you how to do so.
Be A Part of Our Trail Community
As an AllTrails member, you have the ability to add new trails to the AllTrails database! If you know of a trail that should be on AllTrails, please take a minute to add it. The AllTrails community will thank you! The article How To Contribute A New Trail offers a detailed overview of how to do this. When adding new trails, we are specifically looking for trails that start and end at a parking area, are on public property, and contain a drawn route. Our strong preference is for out-and-back or loop trails that begin and end in the same location, but of course some trails are thru or point-to-point trails and they are welcome too. Please note that any added trails or suggested edits must first be approved by our team of editors which may take a while depending on our ability to verify the information and our backlog.
Privacy
AllTrails takes privacy seriously and has implemented features to help you protect your information. Upon account creation, your AllTrails profile will have a default privacy setting of 'Public' for your content, but you can always adjust your default privacy settings, as outlined here. Each type of content will have the visibility options of 'Public', 'Followers only', or 'Only me'.
You also have the ability to adjust the privacy settings for an individual activity, map, or list, without updating your default privacy settings. Click the hyperlinks below for information on how to adjust the privacy settings for your activities, maps, and lists.
Note that your profile photo, name, location, and high level statistics are visible by everyone. This enables other members to make sure they've found the right person they wish to connect with. Your reviews and uploaded trail photos are also public, as the intention is to help other AllTrails members gain trail insights ahead of their adventures. If you wish to anonymize your trail contributions and profile, we recommend adjusting your display name for AllTrails, as outlined here.
Want to learn more?
AllTrails offers many features to create the best user experience for you! Our Help Center offers a comprehensive guide to navigating the AllTrails web and app platforms. If you do not find the answers to your questions in this database, please feel free to reach out to our support team at support@alltrails.com. Our team is here to help! We look forward to talking with you!