AllTrails is excited to announce the release of Navigator! This new feature will replace 'Recorder' on the mobile apps. The concept of 'recording' your activities will not be changing — you'll now simply use Navigator to track and save your activity stats. With this rebrand, your 'Recordings' will now be called 'Activities'. This will not affect any content in your account aside from the name change.
While much of the functionality remains the same, there are some new features in Navigator that we believe will enhance your experience of navigating routes and tracking your activities. We'll walk you through several of the major changes in this article.
Selecting your route for navigation:

With Navigator, you'll find it easier to identify and select any routes you wish to follow. If you tap 'Navigate' from any trail details page, the trail map will immediately display in Navigator for you to follow along. You can also tap 'Navigate' from the bottom navigation bar, where you can swipe up on the grey bar above the 'Where should we go?' text and select from one of your lists, or from trails nearby your current location.
For our AllTrails+ members, you'll see a list of your 'Offline Maps,' or maps that have been downloaded. If you would prefer to track your activity without a planned route, simply tap 'Start without a route' to get started!
Opening Navigator
from Trail Page

or

Opening Trail from
Within Navigator
If you've already started navigating and need to change the route you are following along, simply tap the overflow menu button (three dots), select 'Settings' then tap 'Change route.' You'll then be presented with the same options (your lists, offline maps, nearby trails) as when you first loaded Navigator. Select the route you wish to follow, then tap the back button to return to your map. Your new route will be immediately updated for navigation.
Selecting your activity type:

After you launch Navigator and choose a route to begin an activity, you'll press the 'Start' button for your activity recording to begin. To change your activity type, tap the icon to the right of the 'Start' button. You'll select the appropriate activity type, then tap 'Save.'
Choosing Activity Type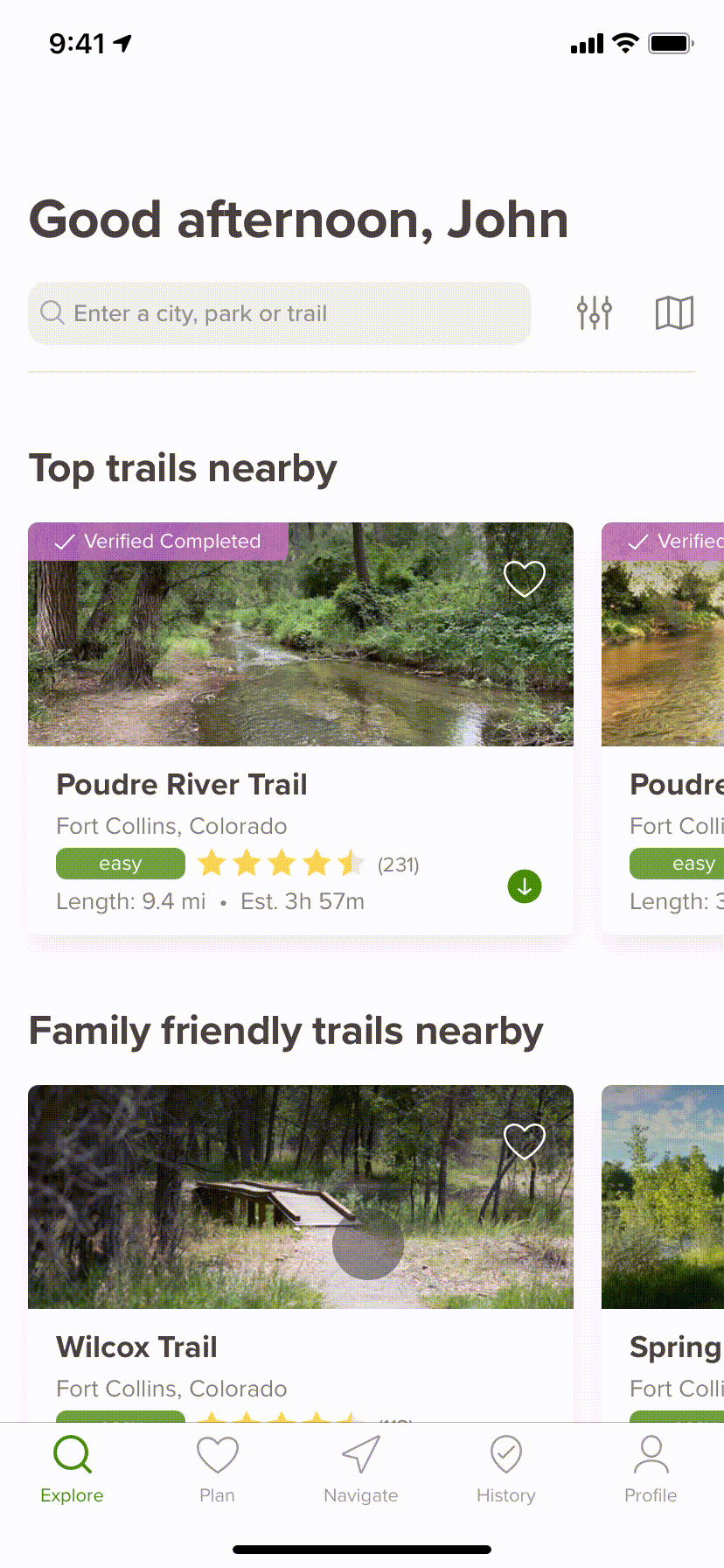 Pausing your activity:
In order to prevent accidental pauses, we've revamped the process for pausing your activity in Navigator. To pause your activity, you will press and hold the green 'Pause' for several seconds. When successfully paused, you'll then see the option to 'Resume' to resume your navigation or finish and save the activity with the 'Finish' option. In case you need to start your activity over, tapping 'Delete activity' will clear any recorded activity and planned route.
Pausing an Activity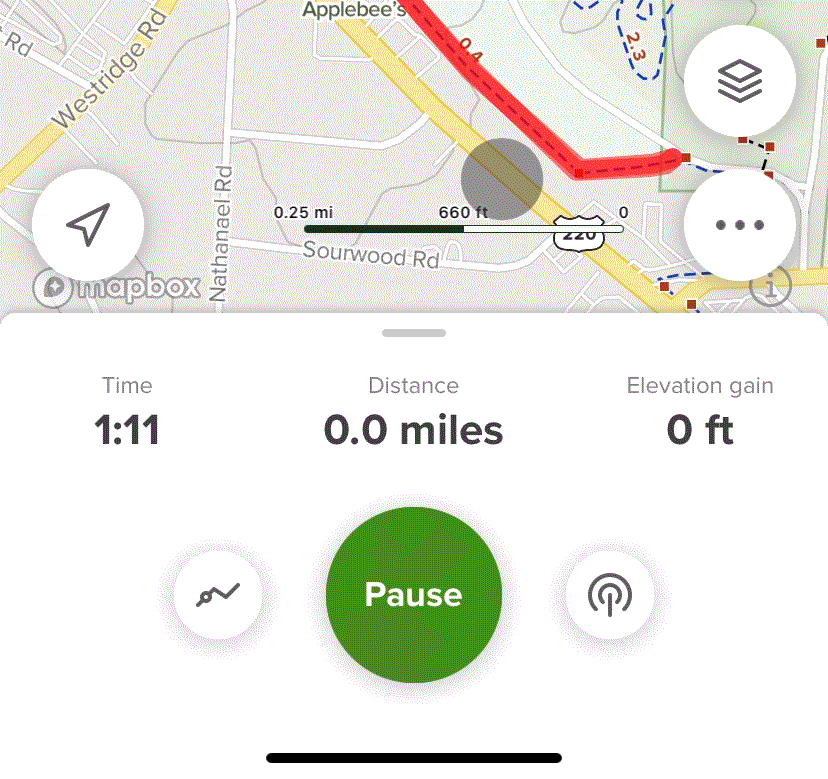 Changing your map orientation:
When using Navigator to follow along your route, you have several ways to control your map view and orientation. By default, your current location will be centered on the map and North will always be up (↑ top of phone). You can adjust your orientation by tapping the red and grey compass icon — this will adjust your view so that your direction of travel stays up. When using this mode, you'll notice that if you move your phone around the map will adjust directions to keep your direction of travel up. Tapping the compass icon once again will switch you back to the original mode of North being up.
You can always adjust your zoom level by using two fingers to pinch the screen. Once you have adjusted your zoom level or panned around the map, you'll see a small white arrow appear at the bottom left of your map. Tapping this re-center button will adjust your view so that your current location is back in the center of the map. Using this button will still respect your map orientation (see above), and will maintain your zoom level.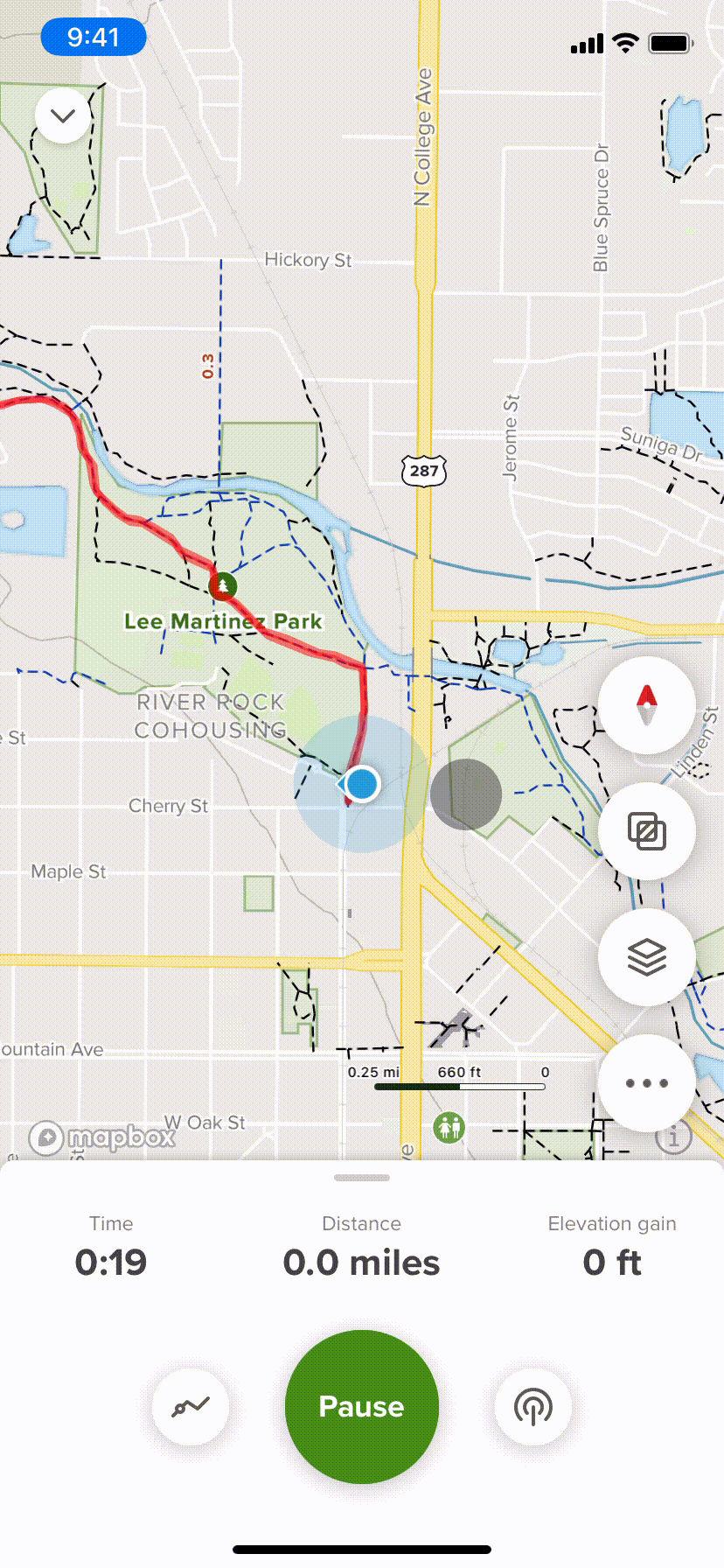 Navigation Info:

As with Recorder, you can view information about your location and other navigation info, including your current coordinates, elevation, and bearing. To access this info while navigating, tap the overflow menu button (three dots) then tap 'Navigation Info.' Tap the back button when you are ready to return to your navigation screen.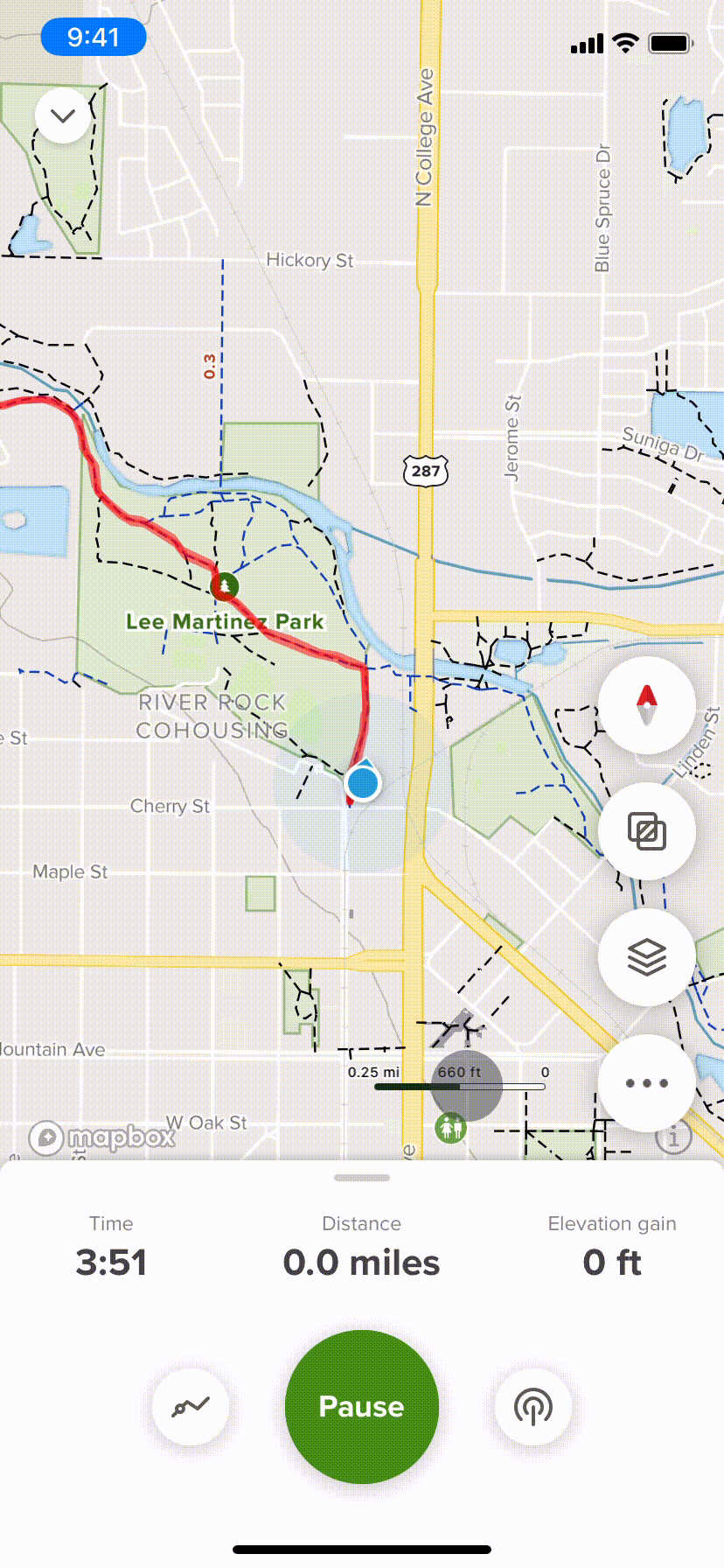 Viewing and Dismissing the Elevation Graph:
To view your elevation graph for both planned* and recorded elevation, tap the elevation icon at the bottom left of your navigation control panel. You can toggle between your recorded and planned elevation graphs by tapping directly on the text for either option.
To return to your main navigation control panel, tap on the small timer over the elevation graph. You can then swipe down on the grey bar to hide the navigation controls and have a full screen view of your map.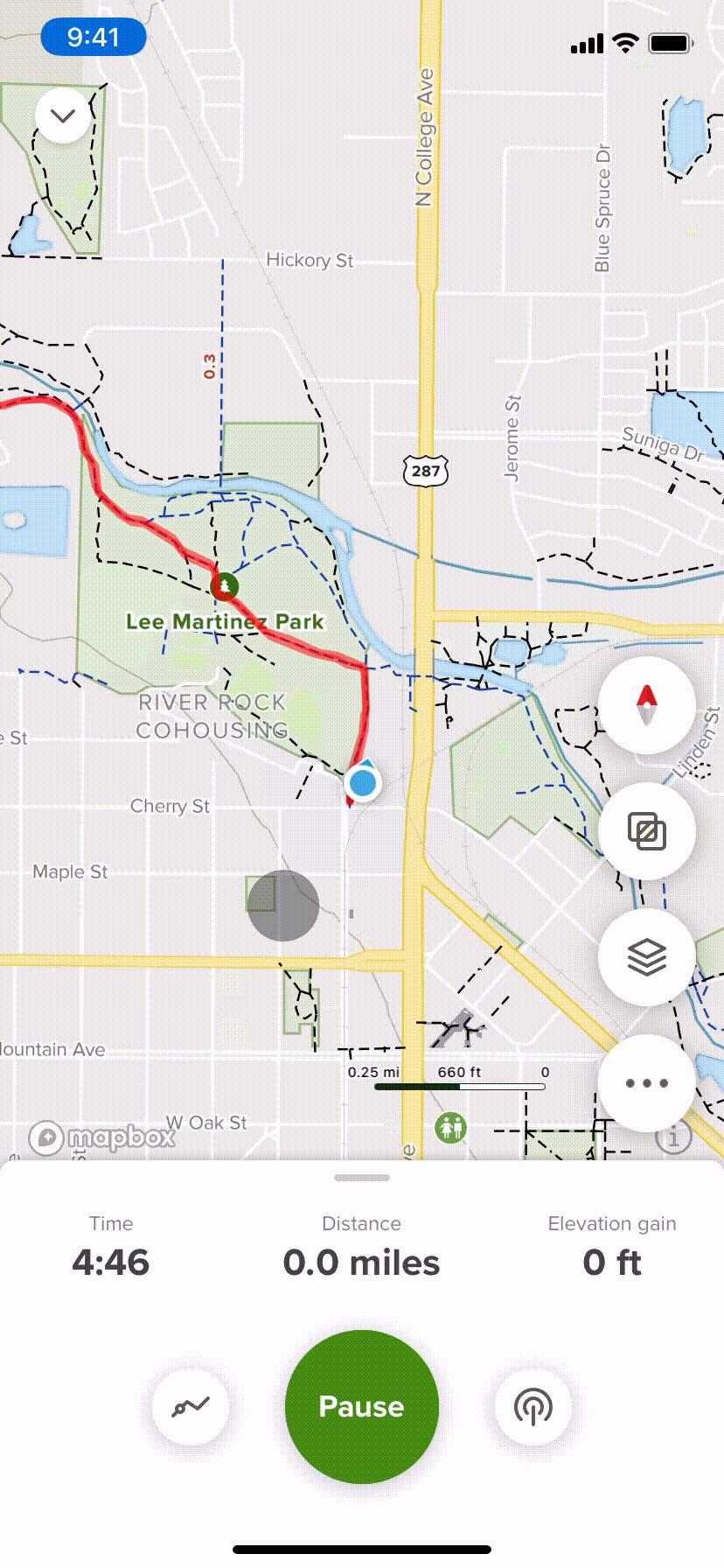 *Please note that planned elevation will only be available if you have a route loaded in Navigator for guidance.
Other questions about Navigator?
Our support team is here to help! If you have any additional questions or feedback, please reach out to us at support@alltrails.com.